SHOP NOW
AN ONLINE STORE FOR YOUR DAILY ESSENTIALS. HAPPY BUYING
YOUR CHOICES
OUR PRODUCTS
VIEW MORE
SHOP NOW
WE DELIVER PRODUCTS
WITH 100%SAFETY
WE DELIVER PRODUCTS
WITH 100%SAFETY
SHOP NOW
GUARANTEED DELIVERY in 12hrs
DOWNLOAD our MOBILE App
Don't WORRY &
keep ORDERING
and ORDER
ONLINE ANYTIME
and ORDER
ONLINE ANYTIME
Don't WORRY &
keep ORDERING
Bestsellers of the Week
Gol Aloo offers wide range of products for their customer
Sliced with Style and Perfection
Perfect Nutrition with the Taste of Fresh Meat.
From raw cuts to delicious marinated ready to cook recipes, Bengal Meat has it all to match your appetite and needs!
Chicken in every way imaginable, from recipes to raw to protein snacks, the variety is incredible.
Fish treated & cured to perfection with balanced spices to whet your cold cut palate. No fishy business!
Wide range of Mutton cut and prepared in all its juicy glory to make your occasion one of delight!
Our Products
There are many variations of products available on Gol Aloo
Nutrition & Recipe Blog
A small effort from us to keep our loved ones well aware regarding nutrition facts and some delicious recipes
I saw a meme the other day that felt oh so poignant to our current situation. It was something along the lines of "I love that when things are falling apart globally our initial instinct is to bake bread". This is OH SO TRUE. The number of people who either a) don't consider themselves to be bakers and/or b) have never baked anything in their lives that have basically become homesteaders is pretty incredible! So much so that flour and yeast can occasionally be hard to come by and certain places are even sold out of chicks for chicken coops! We're basically going back to an agrarian society. I don't hate it.
Some of you may remember my adventures in sourdough baking a couple of years ago upon which I discovered I will never judge the cost of a loaf of bread ever again. Sourdough baking ain't easy. Your starter is basically a child and don't even get me started on how many steps I had to take to master the loaf. Wasn't worth it. I will happily pay my local baker for their time and effort.
That being said, certain types of bread actually are very simple to make at home and with a little elbow grease can actually be quite satisfying to complete. Pizza dough tops that list for me because it doesn't get any easier or more basic than that.
So for those of you who have never dabbled in bread making and/or pizza dough making, I've got you covered. This recipe is fool-proof and forgiving and let's be real, once you top it with cheese the rest of it doesn't really matter.
Ingredients You Need
all-purpose flour
1 packet of dry active yeast (or 2 1/4 tsp)
salt
warm water
olive oil
That's it! Seriously, it doesn't get more basic than that. This pizza dough recipe makes enough for 3 pizza doughs. Feel free to refrigerate or freeze leftover dough. Instructions for both below.
How To Make Easy Pizza Crust
Some people will tell you that you need a fancy flour or yeast but we're not here to become professional pizza chefs. This crust tastes absolutely delicious but it's not fussy and it works. Also let's be real, most of us don't have pizza stones let alone a pizza oven in our house. No reason to overcomplicate things for this pizza recipe.
Do you need a stand mixer to make pizza dough? No! You absolutely do not. However it is MUCH easier and hands-off if you happen to have one. Just be sure to use the dough hook attachment. Now I always use my stand mixer because I'm lazy and it requires less effort, however I am including instructions if you're making the pizza dough by hand.
STEP 1: Combine dry ingredients – pretty straightforward. Combine your dry ingredients in a bowl or the bowl of our stand-mixer.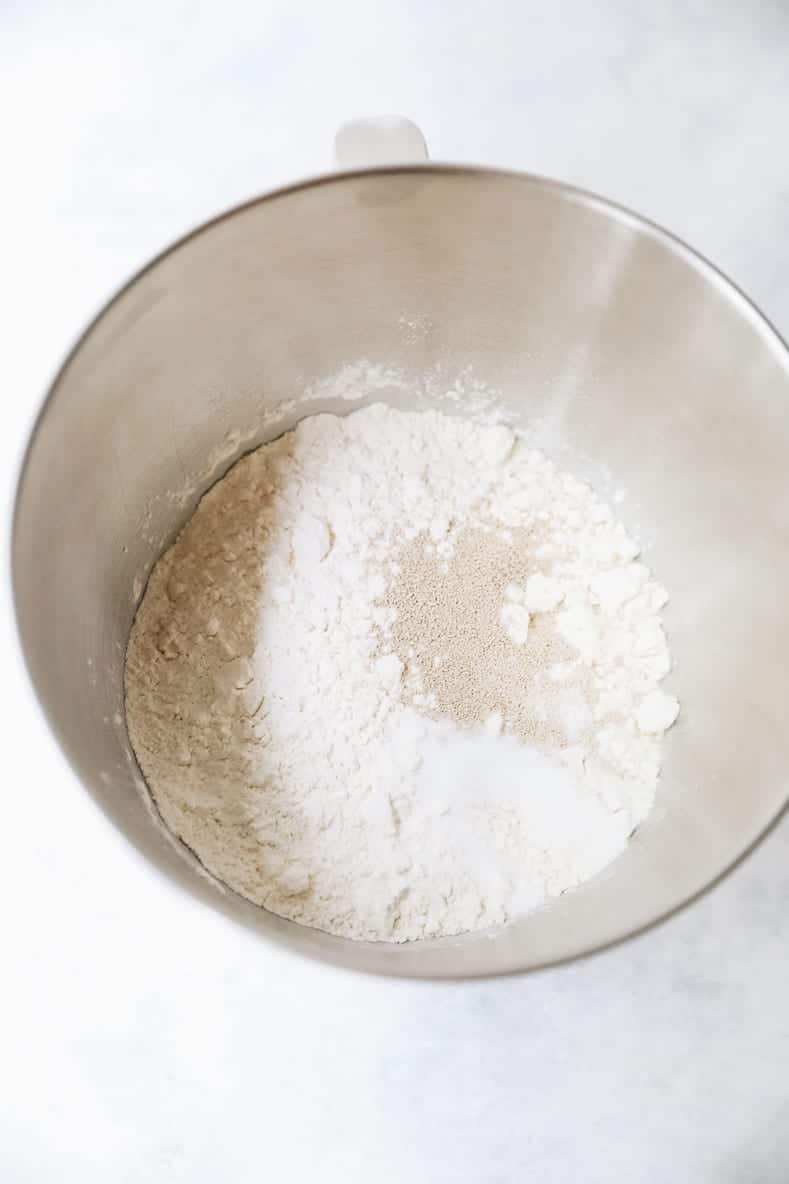 STEP 2: Add the olive oil to the warm water and slowly pour into the bowl while stirring until it comes together or turning the stand mixer on to the lowest setting. If using a stand mixer leave the dough to mix for 8 minutes. It will come together into a big sticky ball.
If kneading by hand, flour a clean surface (clean hands too!) and lightly flour the surface and your hands. Press into the dough with the base of your palms and then fold it back over into a ball. Repeat this for 8 minutes.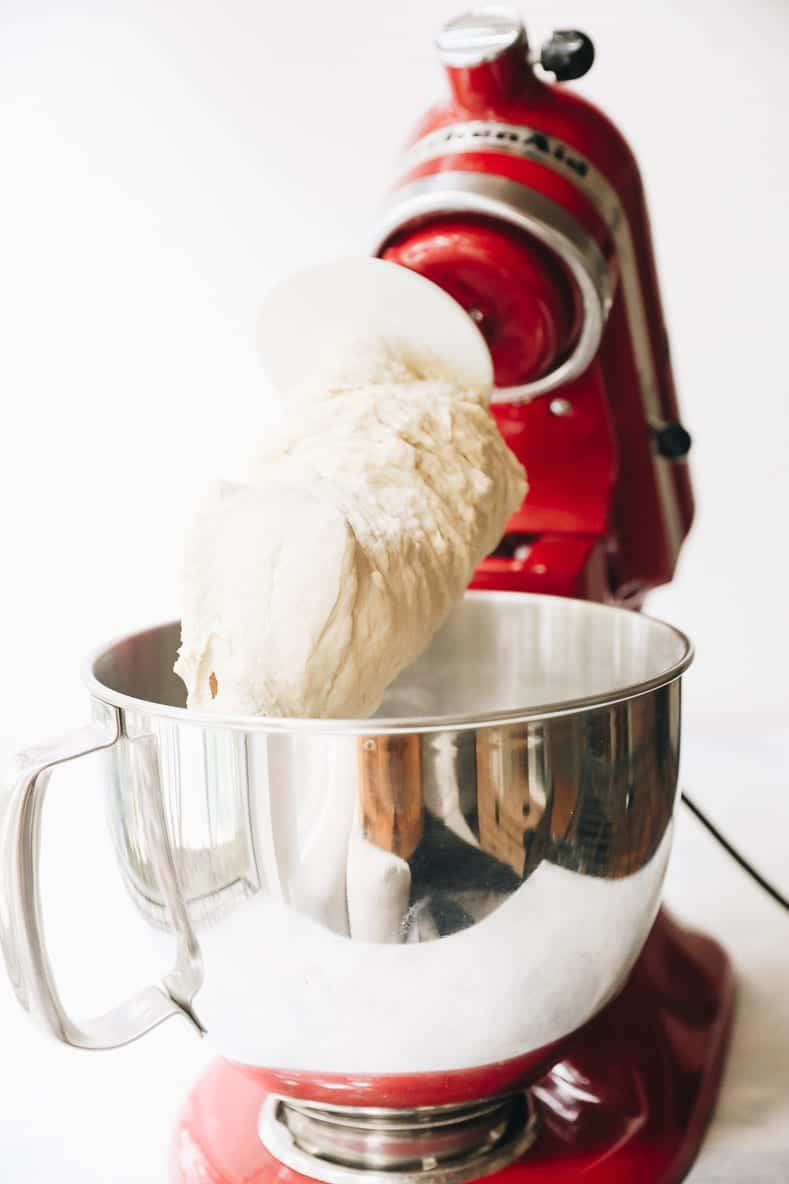 STEP 3: Cut dough into 3 equal sized pieces and fold the dough over itself to form 3 balls. Place balls on a baking sheet leaving space between each and drizzle with a little olive oil. Cover with a towel and let rise for 1 hour. It will double in size.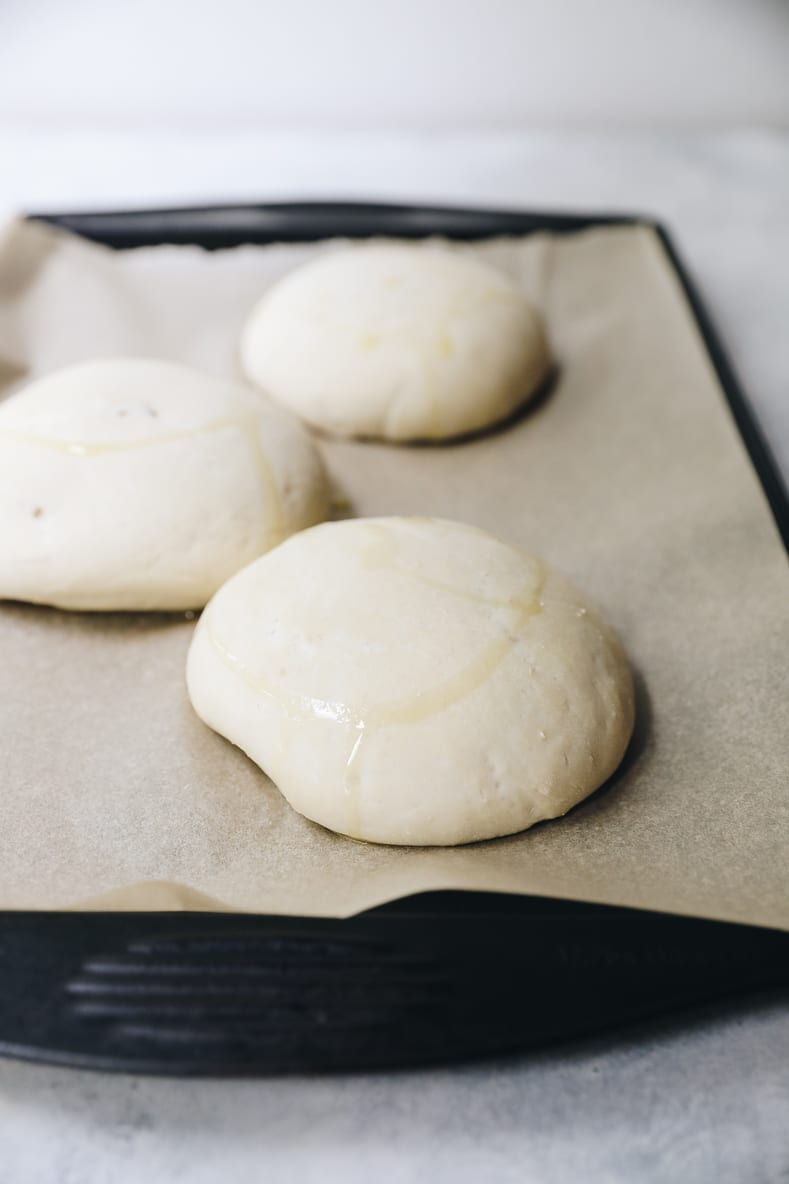 STEP 4: Before stretching the dough preheat your oven to 500 degrees F if you're making pizza right then and there (recipe below). To stretch the dough, lightly flour a surface and place the ball down on top. Lightly flour your hands and press them into the dough to help flatten it. Place the dough over top of your knuckles and lightly knead your knuckles into the dough turning it as you go to stretch the dough to size. The ideal size is 11 inches but use your judgment. If it gets too thin in the center be sure to stop then.
STEP 5: Your pizza dough is ready for toppings! I'm including an easy margherita pizza recipe below but feel free to top with whatever toppings you desire. I highly recommend my zucchini and ricotta white pizza recipe if you want to change things up.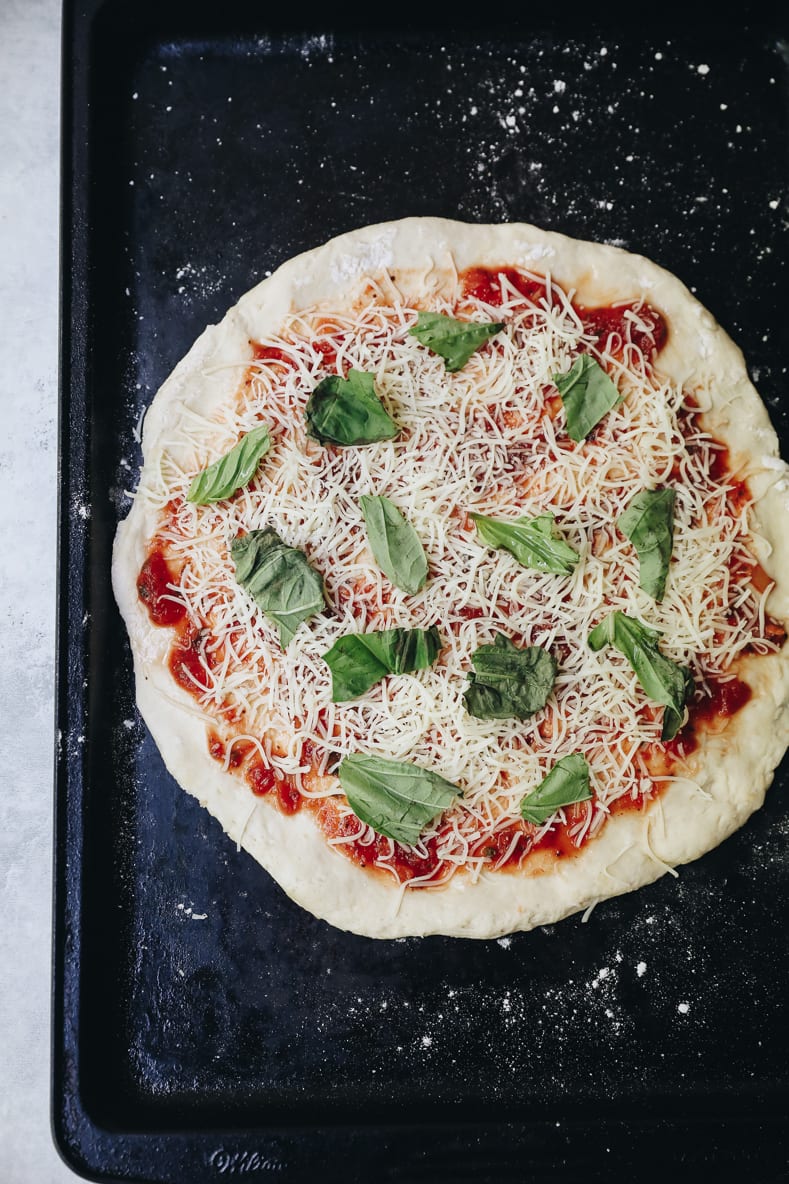 Can you refrigerate or freeze this pizza dough?
Yes! In fact this pizza dough recipe tastes even better if you let it sit in the fridge for 1-3 days. If you are storing it in the fridge, place each pizza dough in an individual container or bowl and cover it with a towel. Before baking remove dough from vessel and place back on a baking sheet and cover allowing it to come to room temperature (30-60 mins).
If storing in the freezer, place dough in a plastic bag and seal it shut with a twist tie. To bake, remove from freezer and allow to thaw on counter. Once thawed remove dough from bag and place on a baking sheet. Cover it with a towel and allow to come to room temperature (30-60 mins). Dough will keep in the freezer for 4-6 months.
Easy Margherita Pizza Recipe
If you're looking for a super easy pizza recipe, I've got you covered. Here is the recipe:
3-4 tbsp tomato sauce (don't overdo this as it will make the pizza soggy)
4-6 oz mozzarella cheese (can be pre-grated or whole + chopped)
fresh basil
olive oil
salt and pepper
Preheat oven to 500 degrees F. Ideal to do this up to an hour before baking to make sure the oven is really hot. On your stretched pizza dough spread your tomato sauce all over leaving 1/2 an inch along the edges for the crust. Drizzle with a little olive oil. Scatter the cheese all over pizza and top with fresh basil torn into pieces. Salt and pepper to taste.
Bake your margherita pizza for 4-10 minutes depending on how hot your oven runs and how long the oven has been on. Watch closely so it doesn't burn. Remove from oven and cut into 8 slices. Enjoy!

INGREDIENTS
3 1/2 cups

 all purpose flour

1

 packet of dry active yeast (

2 1/4 tsp

)

1 tsp

 sea salt

1 1/2 cups

 warm water

1 tbsp

 olive oil + more for drizzling
INSTRUCTIONS
In a large bowl or the bowl of your stand mixer combine flour, yeast and sea salt.*
Add olive oil to warm water.
On the low setting or while stirring dry mix slowly add your water-oil mix to dry ingredients.
If using a stand mixer allow to continue mixing for 8 minutes.

If kneading by hand lightly flour a clean surface and place your sticky dough on top. Lightly flour your hands and begin kneading by pressing the base of the palms of your hands into the dough and the folding the dough over itself. Repeat this for 8 minutes. Dough should be ready when it feels pillowy and is a smooth outer texture.

Cut dough into 3 equal slices and then roll the dough over itself to form a ball.
Place balls on a baking sheet and lightly drizzle with olive oil before covering with a clean dish towel. Let dough sit out for 1 hour to double in size.
At this point you can place the dough in the fridge or freezer if saving for another day (see instructions above).
If using dough immediately place it back down on a clean and lightly floured surface and flatten dough with the palms of your hands.
Place dough over top of your knuckles on both hands and lightly press knuckles into dough while turning in a circle. Continue doing this until dough is roughly 11 inches in size.
Place dough on a baking sheet and continue by adding toppings of choice.
See above for easy margherita pizza recipe.
*If using stand mixer be sure to use the dough hook attachment
Source: The Healthy Maven
What is Barbacoa?
Barbacoa is a traditional Mexican dish made with beef, sheep, or goat. It's flavorful and saucy and served with tortillas or rice. Larger, tougher cuts of beef like chuck roast or brisket are ideal for making barbacoa because of the long cooking time and just enough fat to keep the meat tender.
Here's what you'll need:
An Instant Pot or electric pressure cooker (if you're looking for a slow cooker version—try our Slow Cooker Beef Barbacoa)
A blender or food processor – For blending the onions, garlic, tomato paste, water and spices to make the sauce.
Beef chuck roast or brisket – Chuck roast is often more economical than brisket, but you can use whichever one you prefer or have access to (check the bottom of your freezer…roasts often hide out down there!).
Kosher salt – For rubbing the meat before searing. Coarse or fine sea salt can also be used.
Yellow onion
Garlic 
Tomato paste – Adds depth and a slight sweetness to balance out the onion and spices.
Water
Fresh lime juice – Adds tartness.
Ground cumin 
Dried oregano
Ground cloves – A little goes a long way.
Bay leaves
Cooking fat of choice – For searing the meat before pressure cooking.
How to Make Instant Pot Beef Barbacoa
It's really quite simple. Just rub that roast or brisket with some salt, sear it using the 'Saute' setting on your Instant Pot or electric pressure cooker, add the sauce, and let it cook for 75 minutes. Once the cooking time is up and you've allowed time for some natural pressure release to occur, all you have left to do is shred the meat with two forks and break out the taco or burrito bowl fixins'.
About the sauce…
The sauce is just a handful of pantry items plus water and some onion that you blend in a blender or food processor before pouring it over the roast.
Yes, it's really that simple.

Quick but not instant

While this Instant Pot Beef Barbacoa is much faster than our slow cooker version, it's not 'instant'. You'll need to plan for about 15 minutes to sear the roast and make the sauce and then once you've locked the lid in place your Instant Pot will take anywhere from 5-10 minutes to come up to pressure and seal.
And once the cooking time ends, you'll need to give it at least 20 minutes of natural pressure release before flipping the vent valve to release any residual steam.
So while it's not instant, it's a heck of a lot faster than using the slow cooker.
How to Serve, Store, and Reheat Instant Pot Beef Barbacoa
Serving Suggestions:
Tacos – Use your favorite tortillas (or get adventurous and make your own homemade corn tortillas or grain-free tortillas)—soft or crispy—and load them up with barbacoa, guacamole, salsa or pico de gallo, cheese, sour cream, lettuce, etc.
Burrito Bowls – Like Chipotle, only better! Fill a bowl with rice or cauliflower rice and top it with barbacoa, black or pinto beans, lettuce or mixed greens, corn, fresh tomatoes or pico, salsa, or hot sauce, cheese (cotija is my personal favorite), and don't forget the Quick-Pickled Onions. If you haven't tried them yet, you're missing out.
To keep it Whole30-friendly: Skip the rice, tortillas, corn, and cheese and instead opt for cauliflower rice or a bed of lettuce then top with salsa, pickled onions (omitting the sugar), guacamole, cilantro, jalapenos, etc.
How to Store:
Transfer meat to glass storage container with lid (we like these) and allow it to cool at room temperature for 30-45 minutes before placing the lid in the container and storing it in the fridge for up to 4 days.
Barbacoa may also be frozen for longer storage (up to 3 months). Thaw overnight in the fridge before reheating for the best results.
How to Reheat:
Oven or Toaster Oven: Place barbacoa in an oven-safe dish with 2-3 tablespoons of water. Cover with foil and heat in a preheated 350°F oven for 13-15 minutes or until heated through. The total time will depend on how much you are reheating.
Stovetop: Place barbacoa in a skillet with 2-3 tablespoons of water over medium-high heat. When the water just starts to simmer, reduce the heat to medium-low and cover with a lid. Cook, stirring occasionally, for 5-6 minutes or until heated through.
Microwave: Place barbacoa in a microwave-safe dish and cover. Cook 1-3 minutes (longer if heating a larger portion or you have a low-power microwave) or until heated through.
LET'S GET COOKIN'
Instant Pot Beef Barbacoa
AUTHOR:

PREP TIME:

15 MINS

COOK TIME:

75 MINS

TOTAL TIME:

90 MINS

YIELD:

SERVES 8

CUISINE:

WHOLE30, PALEO, DAIRY-FREE
2 ½ – 3 lb. chuck roast, well-trimmed
2 tsp. Kosher salt (or 1 tsp. fine sea salt)
½ medium yellow onion, peeled and cut into quarters
6 cloves garlic, peeled
3 Tbsp. tomato paste
¾ cup of water
Juice of 1 lime
1 Tbsp. ground cumin
1 Tbsp. dried oregano
1 pinch ground cloves
3 bay leaves
1 Tbsp. cooking fat of choice
Serving suggestion: Serve in a bowl with rice, greens, cilantro, lime wedges, shredded or cotija cheese, corn, pico, black beans, jalapeño slices, mashed or thinly sliced avocado, finely minced red onions or pickled onions
INSTRUCTIONS
Place roast on a large plate and pat dry with paper towels. Rub salt over the surface of the meat.
Select 'Saute' on Instant Pot. When the inner pot is hot, add fat. When the fat starts to shimmer, add roast and sear 2-3 minutes on each side until the roast is browned on all sides. Press 'Cancel' on Instant Pot.
While the roast is browning, add onion, garlic, tomato paste, water, lime juice, cumin, oregano, and cloves to a blender and blend until smooth.
Pour onion-tomato mixture over the roast in the Instant Pot, lifting the roast with a set of tongs to allow the liquid to get underneath the roast.
Place bay leaves on top of roast, lock lid into place, flip vent valve to the 'sealing' position, and cook at high pressure for 75 minutes (adding 10% for high altitude).
When cooking time is up, allow for 20 minutes of natural pressure release before releasing any residual steam and removing the lid.
Carefully remove roast to a clean plate and shred with 2 forks, adding some the cooking liquid back to the meat as desired. Taste and season with additional salt and pepper if desired.
NUTRITION
SERVING SIZE: 

4 OUNCES

CALORIES: 

181

SUGAR: 

1G

SODIUM: 

436MG

FAT: 

5G

SATURATED FAT: 

1G

CARBOHYDRATES: 

3G

FIBER: 

1G

PROTEIN: 

28G
Source: The Real Food Dietitian
Introducing my FAVORITE lunch right now– this chickpea salad sandwich. Even though I'm pretty sure that I say this with all of my sandwich recipes, this one really is my favorite.
It's the recipe that I've been making for years and it's just so, so good. I've shared it a few times on Instagram over the years and realized that I didn't have an actual post for it! So– here ya go.
I know there are so many chickpea salad sandwiches out there and for good reason. Once you try it, who needs tuna? Or chicken? Or any other kinda of salad sandwich. It's creamy, with the perfect bite and texture. I've converted so many people with this sandwich, even those who swear they don't like chickpeas.
If you've tried my avocado chickpea salad, then you will love this chickpea salad version with mayo.
How to make Vegan Chickpea Salad
All of the ingredients in this one work really well together, so try not to substitute or leave something out unless you have to.
The red onion provides the perfect bite, while the relish and mustard offer much needed tang. I like adding in a little smoked paprika for an extra meaty flavor, but that's the only ingredient that I'd say is OK if you skip.
I use my food processor to make this vegan chickpea salad in just minutes, but you can also do so by hand. If you've got a potato masher, then just place the chickpeas in a bowl and mash it a few times, trying to mash most of the chickpeas for good texture.
Oh man, I really can't even explain how good this recipe is. You've just gotta try it.
I made this for my mom a few months ago when she was visiting. Even though she swore that she hated vegan salads like this one, I had a feeling that she would like this one.
So, I made it and put it into quite the sandwich: toasted, hearty bread, crispy lettuce, juicy tomatoes, vegan bacon, and a generous scoop of this salad. I mean, how amazing does that sound?
She LOVED this one so much that she ate the exact same sandwich for lunch the following 5 days in a row. If that's not a testament to how good this sandwich is, then I don't know what is.
chickpea salad sandwich
Chickpea Salad Sandwich! This vegan chickpea sandwich is amazing! If you love tuna salad, you'll love this vegan version.
PREP TIME:

15 MINUTES

COOK TIME:

0 MINUTES

TOTAL TIME:

15 MINUTES

YIELD:

4

 SANDWICHES

CATEGORY:

 

LUNCH

METHOD:

 

NO COOK

CUISINE:

 

AMERICAN
Ingredients
2

 (15 ounce) cans chickpeas, drained and rinsed

1/2 cup

 finely chopped red onion

1 tablespoon

 relish

1 tablespoon

 dijon mustard

1/2 cup

 mayo of choice

1/2 teaspoon

 vinegar or lemon juice

1/4 teaspoon

 smoked paprika
salt/pepper
Instructions
Place the chickpeas in a food processor and pulse 10-12 times until finely chopped, with some flaky texture.
Whisk together the red onion, relish, mustard, mayo, vinegar, and smoked paprika. Fold in the chickpeas and season to taste with salt and freshly ground black pepper.
Serve on toasted bread with lettuce and tomato– I like these with extra pickles!
Source: Delishknowledge
TRICK OR TREAT
Have Some Chocolates, Be So Sweet... Treat Some Desserts, Good To Eat.
To make the days enjoyable, Gol Aloo has made multiple desserts buckets only for you.
Fresh & Pure Milk
Freshly collected from our Dairy Farm. Available to order.
Testimonials
Our respective customers have given their precious time to provide their feedback regarding our service and products.
Ordered recently from Gol Aloo. I was very pleased with their products and services. I will definitely order from Gol Aloo more often and recommend everyone to order their everyday goods from here. Thank You
Good quality products with great customer service and their user-friendly website is the cherry on the top! I highly to choose Gol Aloo for your grocery shopping ????
Received their farm milk and a few other groceries yesterday. They took 14/15 hours only to deliver as I told them to deliver the products altogether. Certainly, the milk was good enough and had a great smell after boiling.
Ordered 6ltrs of farm-fresh milk for eid and received on time. Boiled 2ltrs now to see the quality and it turned out to be good. It would be great if the price was a bit less but overall a good experience.
Delivery was fast, and the product quality was really good. Hope your service quality won't change with time.
Do you have any queries regarding our services or any proposal for a tie-up? Send us an email and we'll get in touch shortly.
Pick up your preferred device and search through our store for the products that you are looking to order.
We will now grab the products that you ordered from our store and pack them up with utmost care and love.
Here comes the superhero who will pick up the grocery bag and head towards your place to deliver.
Hello? Open the door. The superhero has just arrived with a bag full of joy and some Aloos maybe?